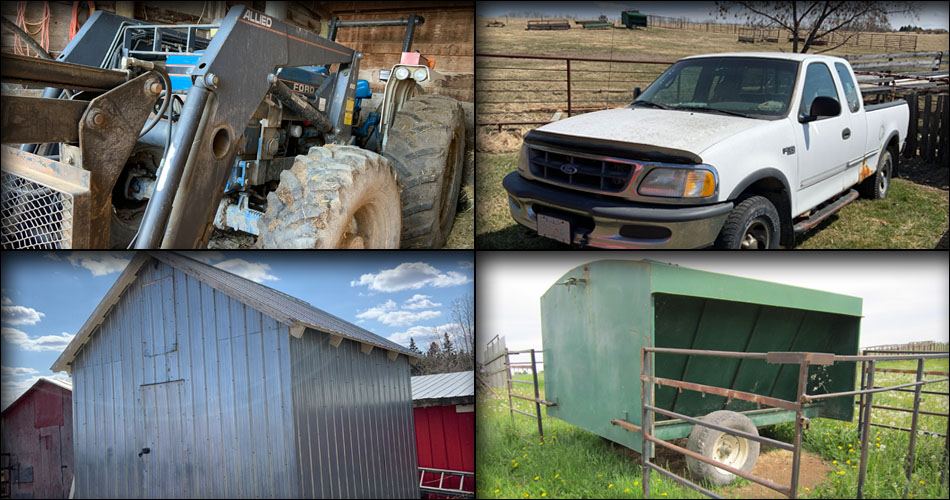 FARM SALE FOR LEROY & DONNA MARTIN (Leemar Charolais)
of Thorsby, AB
ONLINE SALE from Wed, June 30th @ 12:00 NOON to Sun, July 4th @ 7:00 PM
DIRECTIONS: East of Breton on Hwy #616 to Hwy #778 (Thorsby Highway), South 3 km to Twp Rd 474 (AJ's Trading Post), West 1.5 km OR South of Thorsby on Hwy #778 16 km to Twp Rd 474 (AJ's Trading Post), West 1.5 km (Rural Address 1277 Twp Rd 474)
Terms: Etransfer/Cash/Approved Cheque/Debit/Visa*/Mastercard* – GST will apply where applicable
" Online Timed Auction"
Start to Bid: Wednesday, June 30th @ 12:00 NOON
Start to Close: Sunday, July 4th @ 7:00 PM (If there is a bid in the last few moments, there will be an additional time placed on the close)
If you are not familiar with internet auctions, you can inspect the items on viewing day (July 3rd) and leave an absentee bid with Timberlind Auctions. Absentee forms are on our website at www.timberlindauctions.com.   There will be "No Charge" for this service.
PARTIAL LISTING INCLUDES:
TRACTOR & EQUIPMENT:
**Ford 5610 Tractor – FWA, 3pth, Rollover Bar, Showing 4783 hrs c/w Allied 695 Loader/Bucket/Grapple – SHEDDED
**Bale Forks
**Kingkutter PTO 6′ Trail Type Rough Cut Mower
**Hawkline 3pth 4′ Brush Mower
**4 – Diamond Harrows c/w Drawbar
**Woods 3pth 6′ RB700 Blade
**Pull Type Post Pounder
**Pasture Harrows
**Older John Deere KTA 12′ Pull Type Disc
**7′ Blade
**Pull Type Lawn Roller
**Hydraulic Driven 5″x11′ Grain Auger
**Black Grain Auger Hopper
**4 Wheel Wagon c/w Pipe Frame (10'W x 18'L)
**Macleods 4 Wheel Wagon (102″W x 18'L)
LIVESTOCK SUPPLIES:
**2 – 24′ Self Standing Windfence
**4 – 30′ Self Standing Corral Panels
**24′ Self Standing Corral Panels c/w 12′ Gate
**4 – Alleyway Panels
**2 – Overhead Alleyway Slider Gates (32″W)
**Converted Squeeze to an Alleyway
**HiQual 16′ Gate
**2 – 10′ Overhead Gates
**4 – 16′ Green Gates
**2 – WW 16′ Gates
**3 – WW 12′ Gate Panels
**2 – WW 12′ Gates
**3 – 12′ Panels (1″)
**10′ Panels
**2 – 4′ Gates
**Panel Posts
**WW Squeeze c/w Attached Palpation Cage
**Portable Creep Feeder c/w Side Panels
**WW Portable Livestock Scale c/w Weights
**Portable Calf Scale
**2 – Pipe Frame Bunk Feeders c/w Wood Bunk
**2 – Homemade Metal Bunk Feeders
**2 Bale Hay Feeder
**Round Bale Feeders
**Blue Plastic Water Tank
**Headgate
**Approx. 40 Round Straw Bales
**Round Hay Bales
**Circuiteer Cattle Blower
**Semen Tank c/w Old Charolais Semen including French & Domestic Bloodlines (Approx 150 Straws)
**Misc Livestock Supplies
SHEDS & SHELTERS:
**12'x12′ Metal Clad Grainery c/w Tin Roof & Wood Skids
**8'x12′ Wooden Shed c/w Tin Roof & 4×6 Wood Skids
**11'x12′ Cattle Shelter c/w Tin Roof & Metal Skids
PICKUP:
**1997 Ford F150 Truck – 4×4, 302, Gas, Auto, Super Cab, 408 908 km
SHOP SUPPLIES:
**Lincoln Electric Power Arc 5000 AC Stick Welder/AC Generator
**11 – Large Pipe (30″W x 70″ to 116″Lengths)
**5 – Casing (142″ to 149″ Lengths)
**Used Wooden Fence Posts
**Tidy Tank
**20′ Aluminum Extension Ladder
**Chains & Boomers
**Split Firewood
**Misc Shop Tools
ANTIQUES & COLLECTIBLES:
**Beatty Bros. Water Pump
**Antique Tools
HOUSEHOLD:
**Misc. Household
LIST IS SUBJECT TO ADDITIONS AND/OR DELETIONS
This is only a partial listing – the full listing will be added at a later date.
VIEWING DATE: Saturday, July 3rd from 10:00 AM until 5:00 PM
Auctioneer's Note: LeRoy & Donna are selling their farm and moving. For more information, please contact LeRoy or Donna @ 780-389-3314 or Timberlind Auctions @ 780-542-7323.