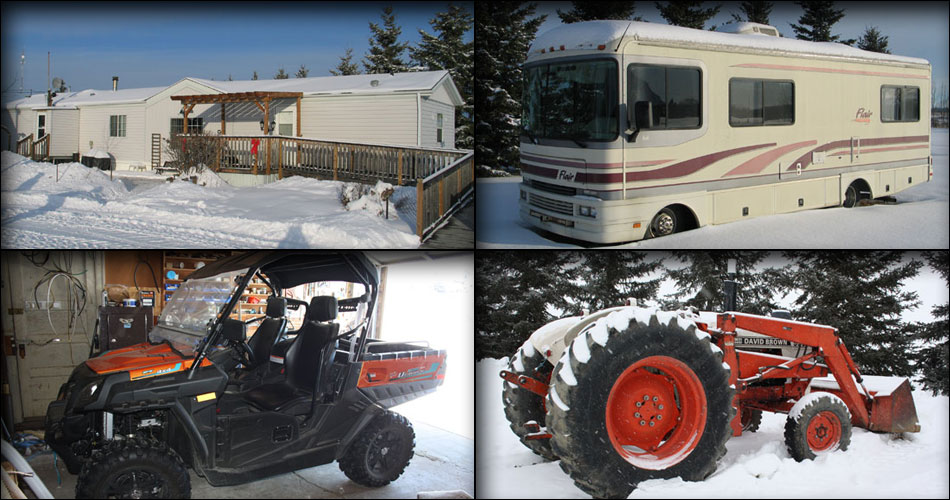 AUCTION FOR THE ESTATE OF STAN TOMASZESKI
of Thorsby, AB
ONLINE SALE from Sat, June 6th @ 9:00 AM to Thurs, June 11th, 2020 @ 12:00 NOON
DIRECTIONS: West of Thorsby 6 km on Hwy #39 to RR 15, South 1 km OR East of Warburg 13.5 km on Hwy #39 to RR 15, South 1 km (Rural Address 49105 RR15)

Terms: Cash/Cheque/Debit/Visa*/Mastercard* – GST will apply where applicable – Lunch Available
" Online Timed Auction"
Bidding Starts – SATURDAY, June 6th @ 9:00 AM MST
Starting to Close – THURSDAY, June 11th @ 12:00 NOON MST (If there is a bid in the last few moments, there will be an additional 2 minutes placed on the closing time)
If you are not familiar with internet auctions, you can inspect the items on viewing day (June 6th) and leave an absentee bid with Timberlind Auctions. Absentee forms are on our website at www.timberlindauctions.com.   There will be "No Charge" for this service.
Due to the changes from a Live Auction to an Online Auction, smaller lots and updated pictures will be added after the May long weekend. Sorry for this inconvenience.
Previewing of sale items will be Saturday, June 6th from 9:00 AM – 6:00 PM MST
MOBILE HOME:
**1993 Winalta Model 92 16'x76′ Mobile Home (to be moved) – 3 Bedroom, 2 Baths, Central Vac, Skylight, Resided in 2005 and Reshingled in 2013, new hot water tank 2019, newer washer/dryer/dishwasher – VERY CLEAN WELL CARED FOR HOME
RECREATION:
**1996 Fleetwood Flair 25′ Motorhome
**2017 CF Moto U-Force 500 EFI Side by Side – 4×4, Dump Box – LIKE NEW CONDITION
**2003 Polaris Trailboss 330 2×4 Quad
**1992 Misty River Aluminum Boat c/w Mercury 9.9hp Motor & 1996 EZ Loader Boat Trailer
**Ice Fishing Tent
LAWN & GARDEN:
**2001 Cub Cadet 3660 Commercial Riding Lawnmower – 832 hrs
**Yard Machines 3.8hp/20″ Push Lawnmower
**Lawn Windmill
**Kid's Sleigh
**Wooden Doghouse
**2 – Metal Gazebos c/w Platforms
**4 Wheel Manual Dump Wheelbarrow
**Landscaping Stones
**Cement Sidewalk Blocks
**Lawn Furniture Cushions
**Garden Bench
**Garden Supplies (Pots/Fountain/Shovels/Decor)
**Wooden Wheelchair Ramp
**Wooden Pergola on Moveable Deck
SHOP TOOLS & MISC:
**Power Ease VI-9000 15 hp Generator on Wheels
**Electric 110 Volt Wood Splitter
**JobMate Drill Press
**Portable Air Compressor
**Cutoff Saw on Stand
**Mastercraft Tool Box
**Gulf Metal Flammables Cabinet
**Shop Tool Boxes
**Jerry Cans
**Scythes
**Cream Cans
**Aluminum Ramps
**14 Gallon Portable Plastic Fuel Tank
**Plastic Truck Tool Box
**Misc Plywood
**Misc Lumber
**Cream Separator Crate
**Shelter Logic Shed Frame c/w Extra Pcs
**Misc. Electrical Supplies
**Golf Clubs/Bag/Pull Cart
**Camping Coolers
**Used Fence Posts
**Used Doors
**Shelving
**Band Saw
**Sanders
**NEW 1500 lb/12 Volt Winch (Still in the Box)
**Asstd. Pumps (Pressure & Submersible)
**Ladders
**Electric Fencers
**Misc Shop Supplies
HOUSEHOLD:
**In Window Air Conditioner
**Woods Deepfreeze
**NEW Microwave
**2018 Danby Bar Fridge
**2016 Electric Recliner Chair c/w Heat, Massage & Lift
**Couch & Loveseat
**Birch Wood Kitchen Table c/w 6 Chairs
**Complete Bedroom Set
**Bed
**Electric Fireplace
**Gun Safe
**Collector Spoon Sets
**Misc Household
GUEST CONSIGNMENT:
**1974 David Brown 990 Tractor c/w Loader – 52 hp
LIST IS SUBJECT TO ADDITIONS AND/OR DELETIONS
Auctioneer's Note: For additional information, please contact Sharon @ 780-916-1299 or Timberlind Auctions @ 780-542-7323.